Hello from Tromsø!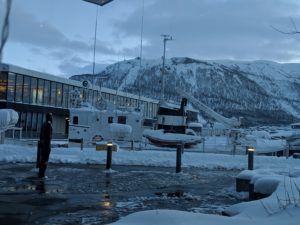 The REGIMES project is again represented in Tromsø for the annual and high-level Arctic Frontiers conference. On Wednesday Jan 23rd, Dorothy will present the latest results from REGIMES, including a transdisciplinary "Scenario 2060", an eco-social-techno-geopolitical scenario of what matters could be like for people of Svalbard and Longyearbyen in 2060. An important contribution that the REGIMES project has made is the ability to create narratives of the future based on plausible ecological, social, economic and geopolitical issues regarding Svalbard under climate change.
Meanwhile, we on the REGIMES team are entering our final project stage, and we are in the process of wrapping up our data collections and planning our final workshops with our students, parents and grandparents (our famous "3 generations" Bayesian Belief climate workshops).
Here's the link to our presentation from Arctic Frontiers: http://prezi.com/qazrij69mraw/?utm_campaign=share&utm_medium=copy&rc=ex0share
Dorothy.