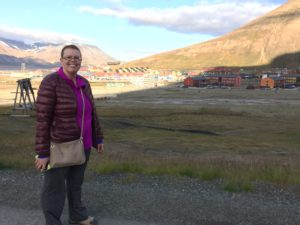 Our scientific Advisor Elizabeth Nyman from Texas A&M University at Galvestor arrived for the annual meeting of the REGIMES project today – and brought with her amazing weather with clear skies and magnificent views!
Dr. Nyman in an academic and writer who specializes in international maritime issues. Currently she is an Assistant Professor of Political Science and Maritime Studies Coordinator.
Dr. Nyman's research focuses on international maritime conflict, piracy, and environmental issues, and has been published in a variety of academic venues. She is particularly interested in oceanic resources, such as fish or offshore oil and gas, and how those impact state desires to control ocean spaces – something that puts her into the Scientific Advisory role of the REGIMES project.
We are so pleased to welcome you to Svalbard!