Here, REGIMES colleague Yajie Liu (NTNU-SØF) writes from Mexico:
The NAAFE Forum 2017 (North American Association of Fisheries Economists) took place at the beautiful city, La Paz,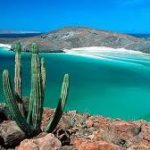 on March 22-24, 2017 (https://www.xcdsystem.com/naafe/website/). The theme of the forum is: The Economics of Aquaculture, Fisheries and Seafood Trade: Managing the Socio-Ecology of Sustainable Marine Resource Use, and hosted by Universidad Autonoma de Baja California Sur (UABCS) in collaboration with the Interdisciplinary Center of Marine Sciences (CICIMAR), the Northwest Center of Biological Research (CIBNOR), and Marista University of Merida (UMM).
Compared to other conferences, NAAFE is a relative small with over 100 participants (130?). Norway probably was the biggest group outside the North American participants? There are a lot of interesting talks with focus on the case studies in North American countries such as US, Canada and Mexico. I organized and chaired a special session on How climate change is shaping fisheries and fishing communities in the Polar region. The session had five speakers, of which only four came and presented their research from the Bering Sea pollock fishery, pelagic fisheries in the Barents, the Norwegian Arctic fisheries to conflict of interest (https://www.xcdsystem.com/naafe/program/SOt7Dbu/).
Representing the REGIMES project, I presented a talk on the effect of Climate Change on Norwegian fisheries in the Arctic as part of WP1. The session was well received and with some interesting discussions about the modeling and future research in the area. On another note: our session was held in the hottest conference room (without air conditioner and with air temperature over 30 0C), It was thought that climate change from the Arctic might help cooling down the temperature, or is speeding up as you 'could' feel it, do something about it?! (Kidding).
As one of judges for best student presentation, I also listened to a few student contestants' presentations, which were great, I very much enjoyed them. After the conference, we went to a post-conference tour – Snorkeling with whale sharks and Sea Lions at Isla Espiritu Santo Island, it was really fun, we saw one whale shark, the other group saw two whale sharks, and there are a lot of sea lions around, a fabulous place for relaxing and sea-based activities.
Thanks, Yajie!